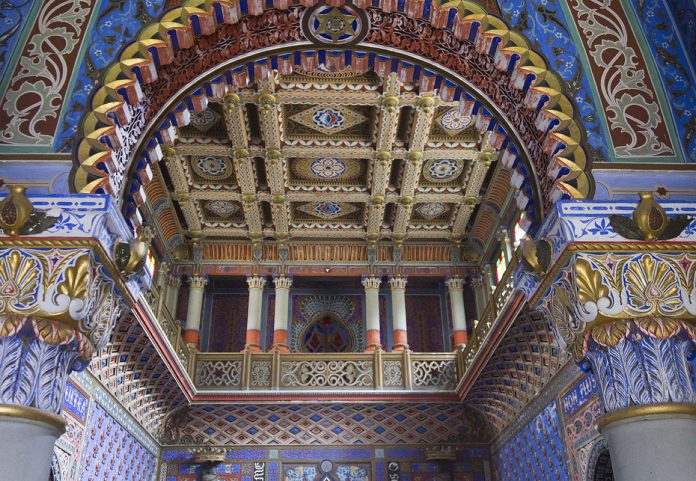 Nestled in the countryside of Florence, the Sammezzano Castle was designed by the Marquis Ferdinando Ximenes Panciatichi of Aragon between 1853 and 1889. Formerly a medieval castle, the structure was transformed into a fine example of the Orientalist fashion.
Known for his fascination of anything and everything oriental and exotic, Ferdinando financed and built his dream structure. With his diligent personality, he managed to create all materials — i.e. the pottery and tiles
 

— "on site" with a local workforce specifically educated for the construction. Considering he dedicated 40 years of his life to the Castle, it is no wonder that the outcome became a haven to eastern architectural details in a Moorish-oriental style.

 
Moorish architecture is the style adopted by the Moors during the Middle Ages and the Renaissance. Prominent examples of the style can be found in Sicily, Spain, North Africa and even in India. The style can be recognized by its heavy use of vivid colors and gold, the intricacy of its decorative motifs and the pointed arches with rounded bodies.
Inspired by Orientalism, like most of the Europeans in the beginning of the 18th century, Ferdinando adopted the Moorish approach to architecture and adorned the interior space with spectacular colors and patterns, intricate wall designs and sumptuous sculptural ceilings. Each of the 65 rooms is richly decorated with eastern exotic motifs and ornaments in a typical example of architectural eclecticism.
Following the Second World War, the picturesque 17th-century castle became a luxury hotel-restaurant but the hotel business came to and end in the 1990s, leaving the castle empty and in pristine state. However, the site has been unoccupied for over 25 years. As a result, broken windows have gone unmended and leaking roofs unrepaired, which in turn has led to major deterioration of the fabric of the building. The lack of security has laid the site bare to thefts and vandalism.
There are many movements which are tirelessly continuing their mission, appealing for preservation and restoration of the magnificent historic palazzo. Their hopes are that in near future Sammezzano, with its finest Arab, Indian, Persian, Spanish and Byzantine features, will be brought back to its former glory that everyone will be able to enjoy.