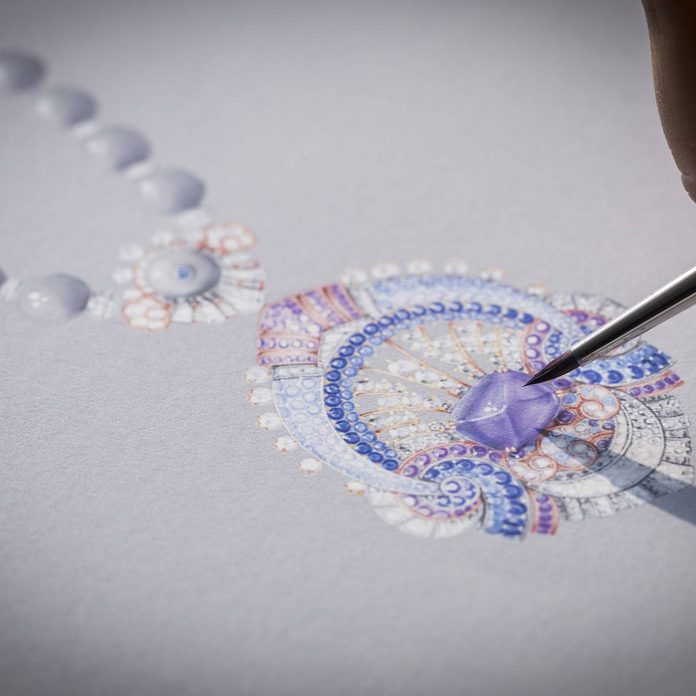 The Van Cleef & Arpels world is always so full of poetry and dreams, it almost bursts at the seams with wonders. The new high jewellery collection 'Quatre Contes de Grimm' – which translates to 'The Four Tales of the Brothers Grimm' – recreates this allure once more.
The new collection brings together an astonishing assortment of 80 jewels, offering the chance to rediscover the exciting tales of childhood. Filled with magical landscapes, animals and princesses, a fairytale of jewels comes to life thanks to the carefully selected gemstones and Van Cleef & Arpels intriguing blend of colour combinations.
One half of the collection is comprised of pieces embellished with gemstones whose colours are harmoniously combined – whereas in the other half of the collection – the gems are juxtaposed to create an unexpected mixture of mismatched hues. Cascading colourless diamonds, clusters of emeralds and sapphires, the joyful shine of coral beads, rubellites, spinels – the range of feelings invoked by the visual stories is expressed through the countless shades of the materials employed.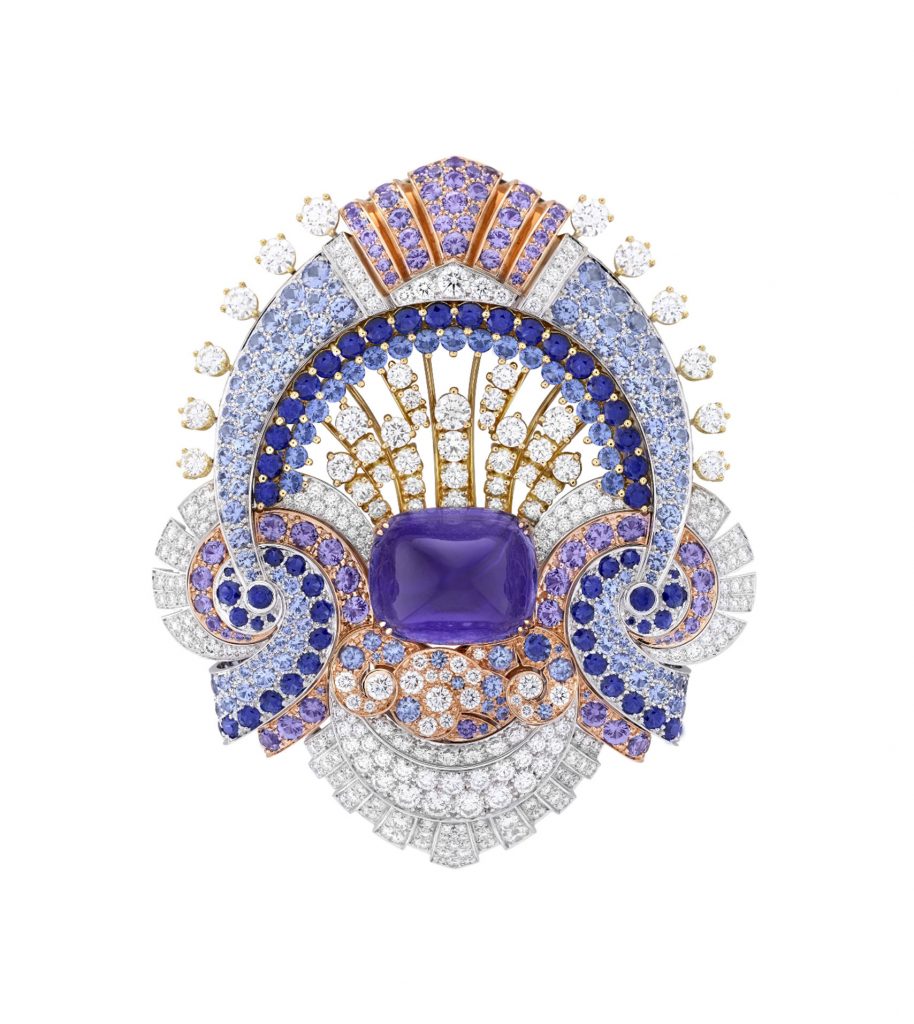 Each stone elicits a unique emotion, conveying messages of friendship or love, joy or hope. The 'Traversée Etoilée' bangle boasts 2 pear shaped intense blue Burmese sapphires totalling 50.03 carats. They are perfectly matched in colour, and symbolise the lake which the twelve dancing princesses from the eponymous tale cross to reach the ball. Another example comes in the 'Hespérides' ring, at whose centre is an oval Sri Lankan yellow sapphire weighing 20.36 carats, echoing the memory of golden apples from the 'Golden Bird' tale. At the heart of the 'Sous la Lune' necklace is the cabochon cut Colombian emerald weighing 29.44 carats, surrounded by a sea of 464 Burmese sapphire beads; their combined weight reaching a whopping 647.02 carats.
The Magical nature of these tales is manifested in the possibility of uniquely transforming each piece in the collection into another, for example; the pendant of some necklaces in 'Quatre Contes de Grimm' can become a brooch. The sense of magic is further enhanced by the techniques of 'Mystery Set' and 'Vitrail Mystery Set'. The 'Vitrail Mystery Set' renders the setting almost entirely invisible from every angle, and the light passing through the gemstones illuminates them as brightly as possible.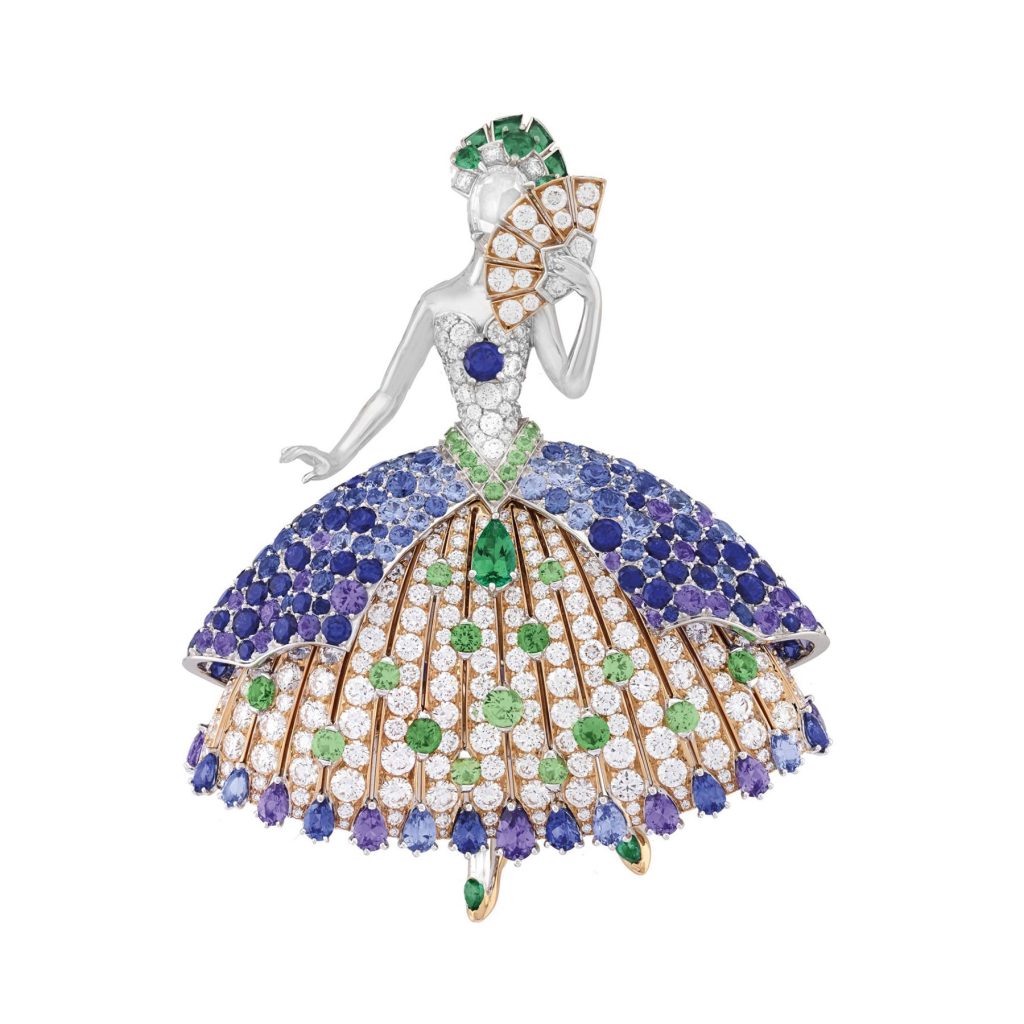 As well as the addition of many new jewellery designs, in 'Quatre Contes de Grimm' you can find many familiar Van Cleef & Arpels motifs, such as ballerina brooch figurines. They have been considered an icon of the French maison since the 1940s. Bright, unforgettable and inimitable, they are made in bursts of extremely limited series, and have long since been prized objects for their faithful, yearning collectors.
A deluxe combination of materials and innovative techniques in the earrings, bracelets, necklaces, brooches and rings of the 'Quatre Contes de Grimm' make the collection – literally and figuratively – a fairy tale come true.