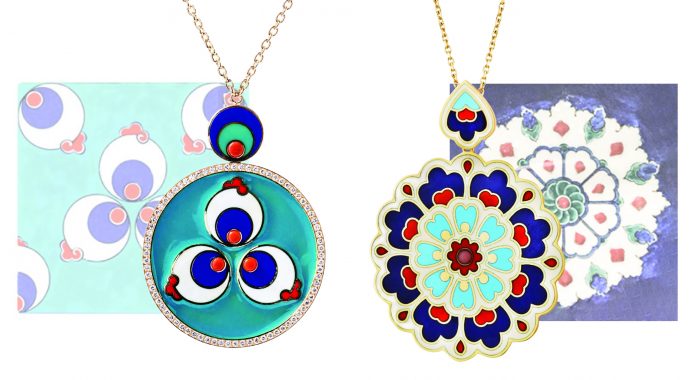 THE ART OF TILE TURNING INTO JEWELLERY…
Tiles, which are composed of small and colorful pieces to create a harmonic image, are elegant reflections of an art branch dates back to hundreds of years. Found in many different cultures from Asia to Anatolia, a tile is a ceramic product generally used in interior and exterior decoration of architectural structures such as mosques, palaces, fountains, and tombs.

The history of Turkish ceramics goes back to the Uighur period (8th-9th century). The regular use and development of ceramic decoration in architecture dates back to the Great Seljuk period in Iran and then in Anatolia. The combination of the Seljuk tile mosaics with polychrome glaze constitute the foundation of the Ottoman ceramic art tradition, which began with the Green Mosque and Tomb in Bursa. The flowers like rosette, peonies and other foliate motifs springing from a vase in the mihrab of the tomb and the sophisticated use of various colours show the great innovations and the skills of the Ottoman art.
Tile artists, who made great progress in Anatolia, used the tile together with different art branches in accordance with the cosmopolitan structure of the region. In addition to geometrical compositions, impressive ornaments made with great kufi and thuluth style calligraphy were used at the religious structures. The patterns that are frequently used in tile decorations of civil architecture are different; there is a wide range of patterns including legendary creatures, such as human, prey animals, birds, double-headed eagles, dragons, sphinxes.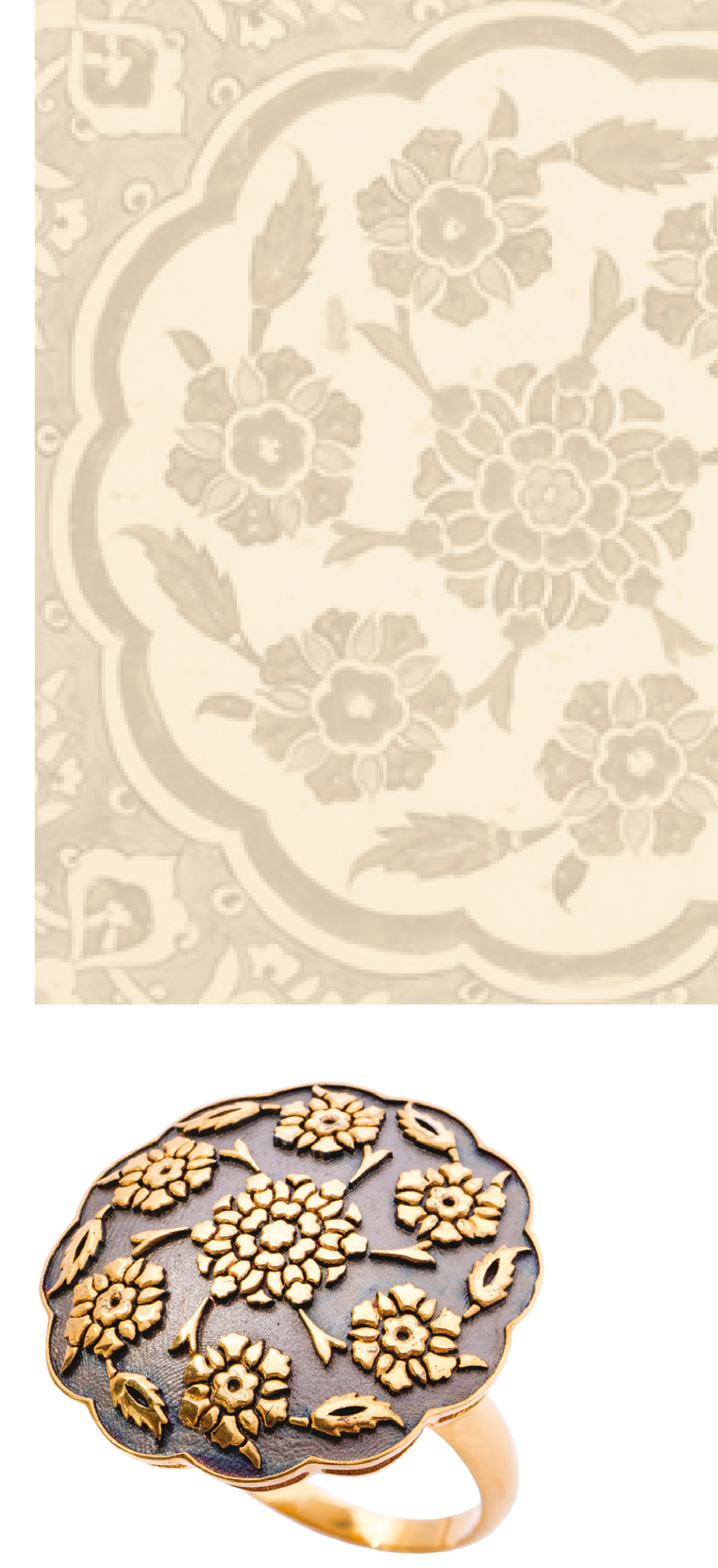 Kiswah Jewellery that wants to integrate cultural values with daily life through jewellery implement 11 art branches to the jewellery with Sacred Art Collection and tile art, which is an important part of Anatolian civilization, is one of these branches of art. Kiswah Jewellery aims to connect people deeply with their cultural backgrounds through jewels. It wants to arouse curiosity and remind the richness of Turkish culture with its necklace inspired by the rose motifs, which were frequently used in the Ottoman period in the 18th century.

Necklaces based on historical tile patterns are brought together with different techniques such as glass enamel workmanship. In addition to the rose motif, the tulip motif, which has found many cultural reflections, is also an inspiration source. The cintamani motif -the triple-dot motif in which the dots are organized in a triangular configuration- of the Uighur Turks is also not forgotten; the motif later represented the power and reign in the Ottoman period turns into a glamorous necklace in blue.