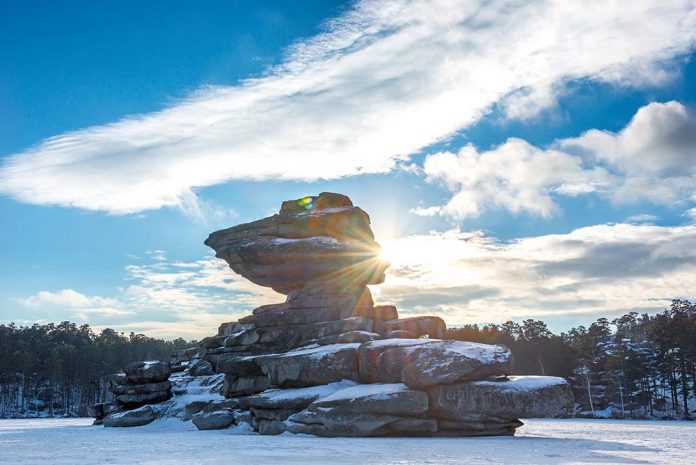 WINTER WONDERLAND
Burabay National Park has officially opened to the public 20 years ago, but it has been infamous for its amazing healing nature for a lot longer than that. The history of recreation in the region is at least 150 years old according to state archives. Records show that people originally came here to rest and recuperate as far back as the late 19th century. Today, Burabay is one of the most popular destinations in Kazakhstan on account of its beautiful clear lakes, pine forests, picturesque peaks and healing mountain air. In summer, tourists stroll through quiet pine woods, and spend evenings on the beach accompanied by the gentle whisper of the waves, gaze at the endless starry sky and, of course, take part in lots of water and land activities. Many visitors, however, find Burabay even more fascinating in winter time when the lakes are covered in ice, the shoreline is frozen, and grass, the roots of the trees, fallen leaves, and pine cones look like fine white lace. During this time, the dense forests turn into a real winter wonderland.
Auliekol (Borovoe) Lake is well known and recognized for its granite island, Zhumbaktas. In the Kazakh language it means "Mystery Stone". The island is called this because of its shape – depending on where you look at it, the shape may resemble either a young girl or a wrinkled old woman, a young boy or a sphinx. Zhumbaktas is surrounded by legends, and if you ever get to visit, you should experience it. You can easily reach the stone ledge by walking on the bluish ice of the frozen lake.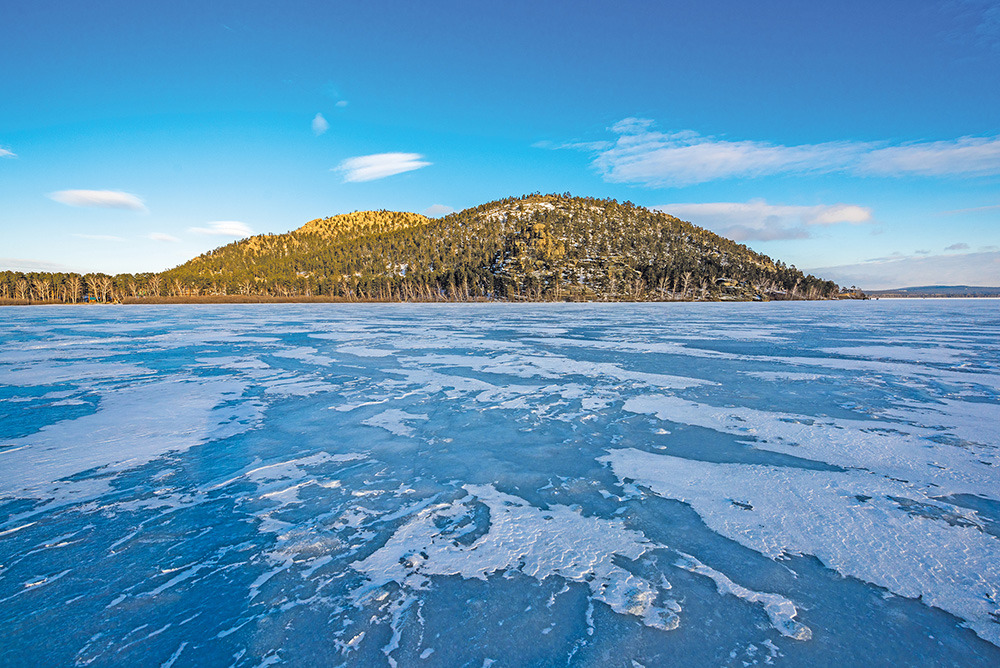 Bu alanda ayrıca Okzhetpes, Berkut ve Burabay gibi tırmanmak için birçok kayalık tepe vardır.

Ancak kış aylarında, bu alanın ana cazibe merkezi, karla ilgili çeşitli sporlardır.

Bölgenin hem vadilerinde hem de tepelerinde, dünyaca ünlü birkaç kayak pisti bulacaksınız.

Kayakların yanı sıra paten, snowboard, kızak, kar motosikletleri ve ATV'ler de bu muhteşem manzaranın tadını çıkarmak için kiralanabilir.
Shchuchye Gölü'nün kuzey tarafında, Noel Baba Köyü ve kış eğlencesi aktiviteleriyle Kazakistan'ın "Laponya" adı verilmektedir.

Bu aktivitelerden en popüler olanı dış yapraklar veya ren geyiği tarafından çekilen bir kızağa binmektir.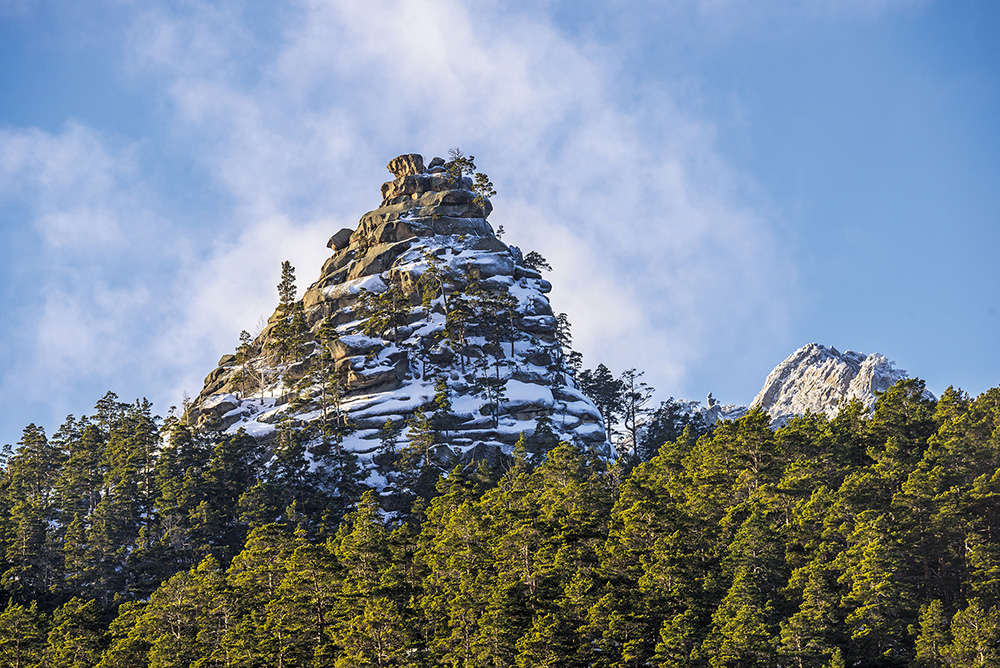 Borovoe'nun en derin gölü olan Shchuchye Gölü kıyısındaki bu büyülü yerin yanında, dünyaca tanınan otel zincirinden beş yıldızlı bir otel olan Rixos Borovoe Hotel yer almaktadır.

Otel arazisinde Kazakistan'ın ilk yıl boyunca wakeboarding parkı 'Cable Park Burabay' bulunuyor.

Wakeboarding, su kayağı, snowboard, kaykay ve sörfün bir kombinasyonudur ve en hızlı büyüyen sporlardan biridir.

Rixos Borovoe'nun inşa edildiği arazide lüks bir yeşillik ve manzara alanı bulunmaktadır.

Hedef, en seçici konuklar bile tatilcilerin beklentilerini aşacak şekilde tasarlanmıştır.

Rixos Borovoe Hotel, markanın her türlü lüks görüntüsüne uygun olarak, doğanın kalbinde dinlendirici bir konaklama ile yüksek kaliteli hizmetlerin tüm ayrıcalıklarını birleştiriyor.